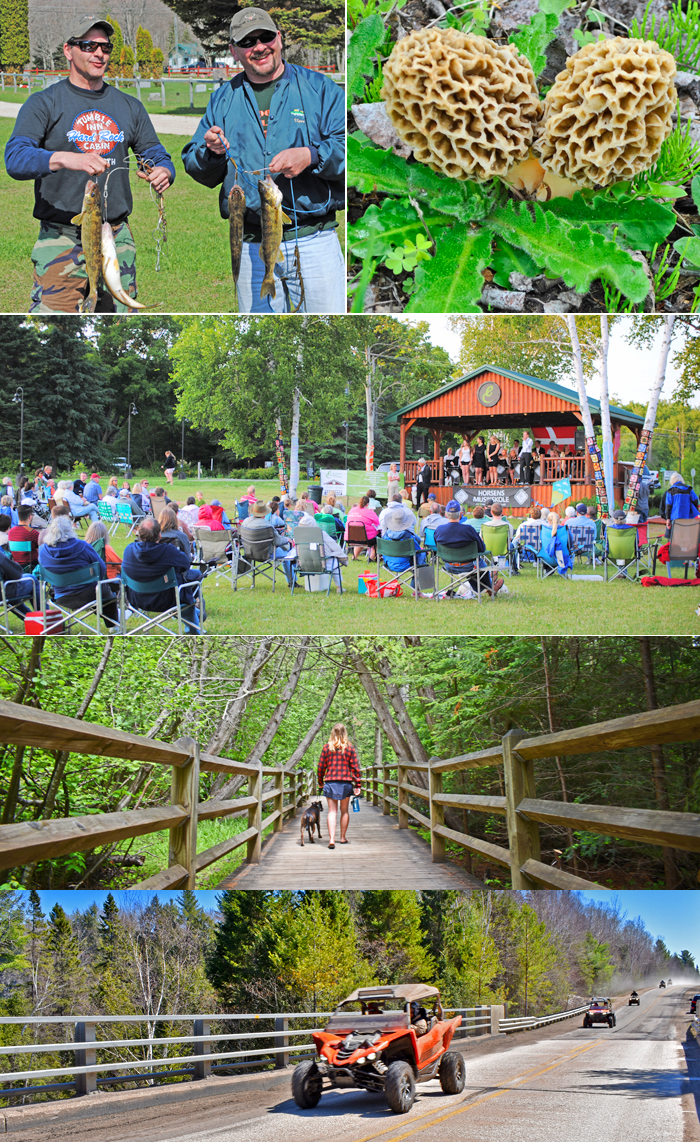 Fun UP Activities for Family & Friends
You and your family will enjoy the many warm weather activities found throughout the Eastern Upper Peninsula of Michigan: UTVing, Music in the Park, swimming, biking, bird watching, hiking, fishing, golfing, mushrooming, agate hunting and more — all within an hour of our campground.

Upper Peninsula UTVing
Many are enjoying the growing UTVing sport with miles of trails to ride. Our campground is motorcycle, ATV, UTV, ORV friendly and trails are just 5 miles away. We do have a nearby outfitter that rents our UTV and alike. Just imagine the chance to ride 4 or even 6 people at a time in one of the newer models of UTV. Imagine no more, it is just a click away - make your adventure dreams come true!

♦ Fish and Hunt Shop All Terrain Rentals

For additional Upper Michigan ATV / ORV information, regulation, detailed maps, please visit the Newberry Department of Natural Resources Operation Center located just north of Newberry, at the intersection at M28 and M123. You can also call their office at: (906) 293-5131.

Fishing
Fishing on the Manistique River and throughout the Seney Wildlife Refuge is Our area provides for an endless amount of things to do through out the Eastern Upper Peninsula. During the spawning season, Chinook salmon are present in the river. Other varieties of fish available to catch are: Northern Pike, Smallmouth Bass, Steelhead, Walley, Brown Trout, and Panfish.

Fishermen will enjoy the many area rivers to experience. Enjoy the Manistique River, Tahquamenon River, Two Hearted River, and the Fox River. We are the land between the lakes and are centrally located between Lake Superior, Lake Michigan, Lake Huron, Big Manistique Lake, Round Lake, South Manistique Lake, Bass Lake, Hulbert lake, and Trout Lake.

Newberry Country Club
The Newberry Country Club, Upper Peninsula's Premiere Golf Course located in beautiful Newberry, Michigan welcomes you. The club is situated on 200 pristine acres in Michigan's Upper Peninsula. The course has been redesigned with new bunkers, lengthened holes and new tee boxes. A golf course of unique variety for all levels of golfers situated in the beautiful Upper Peninsula of Michigan, located 24 miles from the campground.

Agate Hunting
Lake Superior agates can be found all along the endless beaches of Lake Superior. Many visitors the convenient access at both Grand Marais, MI and Deer Park, MI. This area has parking along the lake or at the Muskellunge State Park. Noted for its rich colors, Lake Superior agates are usually red, orange and yellow in hues with banding. These colors are a result of the oxidation of iron.

Mushrooming the UP
Mushrooming in the UP is a wonderful activity. Mushroom hunters enjoy the open air, viewing wildlife, and eating these prized Morel mushrooms. Mushrooms usually grow in May or June, depending on temperatures and rainfall. Make sure to have someone show you what to look for and do some research on how to identity editable mushrooms.

Fall Color Viewing
You and your family will be amazed by the magnificent canvas of color created by our changing leaves. Visit the many various places of beauty during your Upper Michigan fall color tour. Guests flock to many of our great attractions and towns during the fall: The Tahquamenon Falls State Park, Upper Tahquamenon Falls, Paradise, Grand Marais, Cross River Bridge, Brimley, Munising, and Manistique (just to name a few).

"Fantastic campground in a central location to a lot of attractions! The campground is well kept with nice sites and w/e hook ups. They also have a few FHU sites. It's all tucked in next to the Manistique River. There's a nice path that runs along it from the campground. Highly recommended!"—Chrissy D. Facebook Reviews

"Love the small campground with lots to do! Tubing and kayaking was so much fun. Great owners and hosts."—Chelsea K. Facebook Reviews

Upper Peninsula UTVing is one of our fastest growing outdoor recreational activities. Visitors travel from all over the country to ride some of the finest Midwest.